The food industry has often been under scrutiny for deceptive practices, and this time, it's about meat glue. Many are questioning how safe it is, partly because the word "meat glue" doesn't really associate with pleasant and appetizing thoughts. Meat glue has the impressive ability to turn scraps of meat into perfectly normal-looking steaks, which brings some issues to the table as it is hard to distinguish between a meat-glued steak and a normal steak. Should companies be allowed to do this?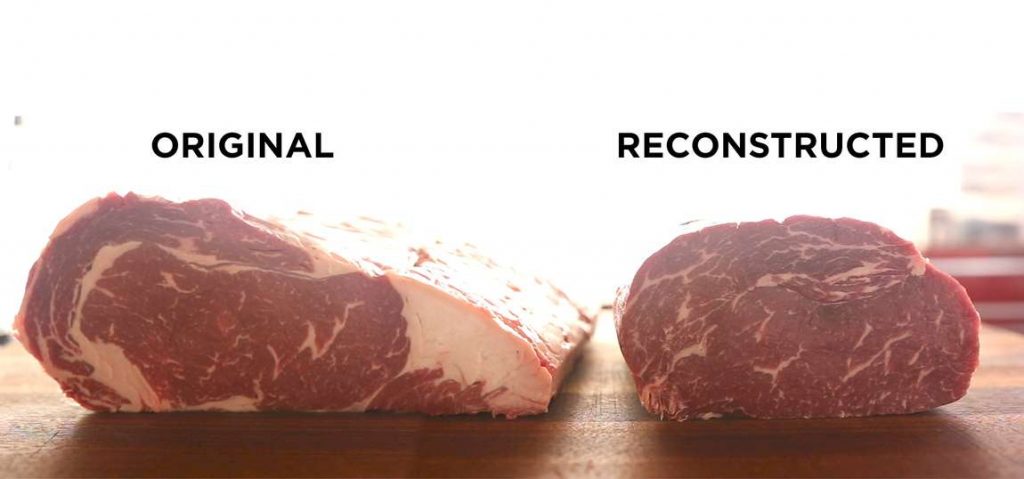 What really is meat glue?
The actual term for meat glue is transglutaminase, which is a naturally occurring enzyme that helps form bonds between the proteins glutamine and lysine, commonly found in muscle tissue. These enzymes are present in your body and are used for processes such as blood-clotting and sperm production. It's also present in plants to aid in their growth and development.
However, while it's called meat glue, transglutaminase can be used in various baked goods, cheese, and soy products, such as tofu, and it's usually sold in powdered form under the brand name Activa or Moo Gloo.
What does transglutaminase do?
Chefs commonly use meat glue to fuse meat together, improve texture of meat, or to increase the shelf life of food, and the process of gluing meats together usually involves dusting the powdered transglutaminase onto the meat, sticking pieces of meat together, waiting for about 4-24 hours, then cooking the meat thoroughly.
Meat glue is made from fermenting bacteria, like Streptoverticillium mobaraense, although it is sometimes from the blood plasma of animals such as pigs and cows or plant extract. Because it's an enzyme, transglutaminase will be deactivated when cooked, so it's mostly harmless after the meat has been heated up correctly, although there are still some controversies surrounding how safe meat glue is.
Many people say that you can stick your fingers together or glue your lungs if you breathe it in, but that's unlikely because transglutaminase doesn't just stick to any surface like superglue, it requires specific proteins for it to slowly bind to it.
What is meat glue used for?
Many companies use transglutaminase to save money, as the bits of meat normally discarded can now be glued together to form a patty that can be sold to consumers, or to form pieces of cheaper fish into crab legs or shrimp.
Other companies use it to form filets from meats, like chicken, that don't normally come as a filet. Since meat glue can be used to fuse different cuts of meat together, some people are worried about the food industry fusing lower quality meats together and selling it as a high quality meat. However, labeling laws require companies to label the meat correctly, so it would be illegal to sell a round steak as a sirloin steak. Yet, companies could still take lower quality parts of a filet and glue them together and sell it as a filet, even though it was made up of lower quality parts.
What are the labeling laws regarding meat glue?
The USDA requires that glued meat, egg, and poultry at the supermarket have to be labeled as "formed" or "reformed", with transglutaminase listed on the ingredients, but not at restaurants, so some consumers may feel tricked because they bought a high quality steak, but instead got lower quality meats fused together, which is hard to identify as it usually tastes and looks the same.
This deception is highly controversial, as often times, consumers are not properly informed about the true contents of their food. In fact, meat glue is more common than some might expect as around 8 million pounds of all meat in the United States contains transglutaminase, but most of us don't know it.
However, Brandon Naulty of Ajinomoto, the company that produces meat glue, stated that while restaurants don't label their meats as glued, "If you are served vegetable soup [at a restaurant] are all of the ingredients of the vegetable soup disclosed?"
"If you are served vegetable soup [at a restaurant] are all of the ingredients of the vegetable soup disclosed?"

Brandon Naulty, Ajinomoto
What are some other safety concerns about meat glue?
In addition, another major concern with meat glue involves the health and safety of consumers. Normally, the USDA recommends that steaks should be cooked to at least 145°F to kill off all the bacteria on the surface of the meat since the center of a steak is usually safe from bacteria.
However, when multiple bits of meat are fused together, the bacteria on the surface of the meat is now at the center of the meat, making it much harder to fully cook the meat and kill off the bacteria. It's also much harder to find the source of a bacterial outbreak when steaks are glued together.
The USDA stated that there are no guidelines for how to cook glued meats, and with the bacteria being in the center of the meat, this could possibly increase the risk of foodborne illnesses for the consumer. However, the USDA also stated that that the risk for contracting foodborne illnesses is higher in ground beef than in glued steaks.
"Say somebody wants that filet steak rare, the center temperature is not going to reach the temperature that will actually kill the bacteria… And that's also a really, really happy environment for things that can kill you."

Chef Staffan Terje, Perbacco Restaurant
Is meat glue safe?
Others are more concerned about the safety of transglutaminase itself, but there are no known health risks associated with the use of transglutaminase. The FDA has categorized transglutaminase as generally recognized as safe for over 10 years, and similar to other enzymes, transglutaminase will denature when exposed to high temperatures, so it is generally safe to consume when heated properly and you won't have to worry about gluing your insides together when eating foods treated with meat glue.
Overall, transglutaminase is safe to consume, but the issue of bacteria contaminating the food poses a greater health hazard.
Today, meat glue may have a couple issues with food safety and consumer deception, but meat glue itself is unlikely to disappear any time soon as it helps save money, and admittedly, make some cool culinary inventions.
Yes, meat glue is safe for you.
However, consumers deserve to know what's in their food, and even though meat glue has not been shown to have any adverse health effects, consumers should be allowed to choose and consider the risks. So is it safe? Generally yes, because even though glued steaks may have an increased risk for contamination, heating your food up to a safe temperature should mitigate the risk for foodborne illnesses.
Bibliography
Holland, Kimberly. "The Gross Meat Ingredient You're Probably Eating." Reader's Digest, Reader's Digest, 17 June 2019, www.rd.com/article/meat-glue-ingredient-youre-eating/.
Kieliszek, Marek, and Anna Misiewicz. "Microbial transglutaminase and its application in the food industry. A review." Folia microbiologica vol. 59,3 (2014): 241-50. doi:10.1007/s12223-013-0287-x
Kubala, Jillian. "Transglutaminase (Meat Glue): What Is It and Is It Safe?" Healthline, Healthline Media, 24 July 2018, www.healthline.com/nutrition/transglutaminase.
Whitney, Cole. "Stuck on You, with Meat Glue of Course." Kitchen Alchemy, 28 May 2019, blog.modernistpantry.com/advice/stuck-on-you-with-meat-glue-of-course/.
Insight, Food. "Transglutaminase: Safety, Function and Benefit to Our Food Supply." International Food Information Council, 6 Nov. 2019, foodinsight.org/what-is-transglutaminase/.
Eng, Monica. "Meat Glue Safety and Labeling Defended by Industry." Chicagotribune.com, 5 Sept. 2018, www.chicagotribune.com/dining/ct-xpm-2012-05-10-chi-meat-glue-defended-by-industry-20120510-story.html.
ABC7. "'Meat Glue' Poses Health Risks for Consumers: ABC7 Los Angeles." ABC7 Los Angeles, 3 May 2012, abc7.com/archive/8642900/.
Schwarcz, Joe. "What Is 'Meat Glue'?" Office for Science and Society, 13 June 2019, www.mcgill.ca/oss/article/health-nutrition-general-science-you-asked/what-meat-glue.