Currently, more than 50 million students are learning online with Coursera, and that includes me, since quarantine has provided me with a lot of spare time to learn new skills and explore topics. I came across Coursera when I saw an article about free online college courses, so I decided to check them out. Since then, I've finished 9 Coursera courses and I'm working on many more, so here's my opinion on Coursera, and whether or not you should check them out!
Disclaimer: I am not sponsored by or affiliated with any of the organizations mentioned.
Coursera was started in 2012 by computer science professors named Andrew Ng and Daphne Koller at Stanford University, to offer massive open online courses (MOOC) that had been rising in popularity.
Currently, Coursera offers many options, including courses, certifications, Professional Certifications, MasterTrack Certifications, and even degrees in many different topics, such as science, mathematics, art, literature, business, and many more. Many of these courses are offered by top universities, such as Stanford University, Johns Hopkins University, University of Pennsylvania, and Yale University, and often, these are the courses that are taught by the university itself, but completely online and for a significantly cheaper price.
In fact, you can take a wide variety of individual courses for no cost, which is called auditing the course, although it costs $49 for a course certificate which confirms that you completed the course. This certificate can be shared on your LinkedIn profile. However, Coursera offers financial aid for students that need it, which involves a simple application that asks you to explain the skills you learned in the course and explain your financial need.
University students with a university-issued email may be eligible for Coursera for Campus, where students can take one free course per year and complete an unlimited number of Guided Projects. Coursera also offers Coursera Plus, which allows you to take an unlimited number of courses for $399 a year, although MasterTrack Certifications and degrees aren't included. I've only taken individual courses, although I'm interested in pursuing a Specialization or Professional Certification later on!
Here are some more details about the types of courses offered by Coursera!
Individual Courses
These last anywhere from 3 to 12 weeks, although the estimated time commitment listed on the side gives a better idea about how long the courses will take, and the courses I've taken ranges anywhere from 5 to 33 hours. There are more than 6,000 courses available, and these courses include video lectures, reading material, graded assignments and tests, group discussion forums, and occasionally peer-reviewed assignments. Many of these courses are free to audit, although you can pay to receive a course certificate and additional course material.
Cost: Many of these courses are free to audit, but an individual course certificate costs either $49 or $99, depending on the course. Financial aid is available as well, and university students can take one free course per year with Coursera for Campus.
Guided Projects
Coursera recently released Guided Projects, which are a great way to gain skills through hands-on projects, and these projects are designed to show employers your ability to apply your skills to a real-world project. They take around two hours to finish with step-by-step instructions, and they are particularly useful for computer programming and data science skills. The projects are done with a software called Rhyme, so you can follow along with a video of your instructor as you work on the project.
Cost: Guided projects cost $5 to $10, and the option to audit or receive financial aid is not available. However, university students with Coursera for Campus can complete an unlimited number of guided projects for free.
Specializations
Rather than individual courses, Specializations are a group of around 3 to 10 related courses that are designed to help you master a particular topic. At the end of the course, students will have a capstone project, such as writing an in-depth research paper, to demonstrate their knowledge in the topic, and these capstone projects can take up to 40 hours to complete. However, in total, the specialization can take around 4-12 months to complete, depending on the length of the courses.
Cost: Most of these Specializations run on a subscription basis which costs around $39-$79 per month, although some Specializations will offer a one-time fee that gives you one year to complete the Specialization. Financial aid is also available, although you will have to renew your financial aid with every individual course.
Professional Certificates
These are designed to help you gain career skills, and the certificate is issued by the institution that developed the course, not Coursera. The Professional Certificate earned from a course may be recognized by another organization, so they may count towards professional or academic credits. They are similar to Specializations since they are a collection of courses, but these require hands-on projects to build your portfolio and prepare you for a professional career. Some of the organizations that offer these Professional Certificates include IBM, Google, and SAS Institute.
Cost: The price may vary, although it starts at $39 a month. However, a 7-day free trial is available to let you test out the program. Like the other options, financial aid is available.
MasterTrack Certificate
These are semester-long courses that count towards academic credentials and online degrees. Some organizations and schools may accept these credits and help you work towards a Master's Degree, since after you have completed the online course, the MasterTrack program may provide instructions for how to transfer the credits to an on-campus program. The MasterTrack program courses consist of recorded video lectures, live instruction, assigned readings, graded quizzes, and real-life projects, and the courses can take around 4-8 months. However, you may be wondering, what are the benefits of pursuing an online Master's Degree? The MasterTrack program provides a part of the instruction for a Master's Degree for a fraction of the price and more flexible time commitments, so it's a great option for those who would like to progress their career or switch careers.
Cost: These courses cost anywhere from $2,000 to $5,000, with payments made in installments of four equal payments for four consecutive months, or all at once. Financial aid is not available for the MasterTrack program.
Degrees
With many universities going online because of the pandemic, you can pursue a similar degree through Coursera with their degree program, which provides you with an accredited Bachelor's or Master's Degree from one of their partner schools, such as Arizona State University or University of Colorado Boulder. These degrees allow you to go at your own pace and study anywhere for a fraction of the price, and the flexibility allows you to finish your degree as fast or slow as you want. However, you will need to apply and be selected for the program before taking the course, so it's not completely like the other options where you can enroll as you like. There are many great degree programs provided through Coursera though, such as the Master of Computer Science and Information Technology from the University of Pennsylvania.
Cost: Online degree programs can cost around $15,000 to $45,000, which is still more affordable than some on-campus degree programs. Coursera also requires a Coursera fee that is separate from the university tuition, but financial aid is available for this Coursera fee.
For me, I've finished 9 Coursera courses, including 8 courses related to medicine and biology, so I've taken a wide variety of courses of varying difficulty and quality.
Here are some of my favorite courses I've taken!
The Science of Stem Cells from the American Museum of Natural History
I think this was my absolute favorite course out of all of the online courses I've taken, and I actually discovered my interest in biomedical science and stem cell research through this course, since at the time, I wasn't sure what I wanted to do, but I became absolutely fascinated with stem cells and biomedical research after taking the course.
At first, it starts out with a basic introduction and history of what stem cells are and how they differentiate, then progressing to speakers talking about potential uses for stem cells and their research, and finally the laws, regulations, and ethics surrounding stem cell research.
However, while the course states that it takes approximately 10 hours to complete, I completed the lectures, readings, and quizzes in just three days, since I was so excited about the course. I found that the quizzes weren't too difficult, and in fact, a bit easy at times, but the entire course was very comprehensible for someone completely new to stem cells. I really liked the progression of the course, and overall, I would definitely recommend this course.
Vital Signs: Understanding What the Body is Telling Us from the University of Pennsylvania
This was also another one of my favorite courses, since I thought the structure of the course was understandable and carefully done. The course is split between different vital signs, which includes heart rate, blood pressure, body temperature, respiration rate, and pain, with each one being taught each week. There were video lectures and quizzes, and I thought the difficulty of the quiz was just right, since there was a mix of questions that came directly from the lectures and case studies that we needed to figure out.
This was actually the first Coursera course I ever took, and I found it to be very comprehensible to me, a person with a general high school science education, even though some concepts were a bit more difficult to understand. The lectures were filmed beautifully, and the entire structure of the course was perfect, so I would recommend this course!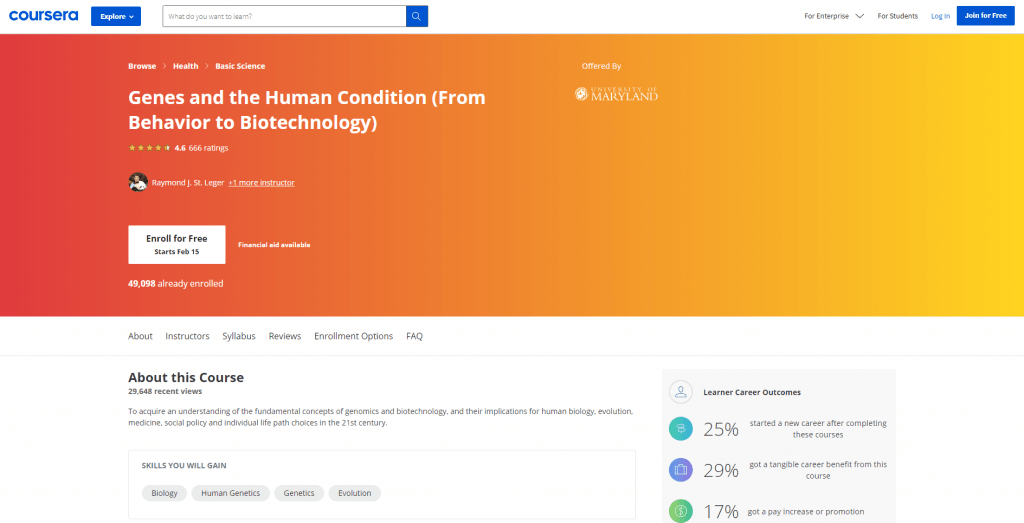 Genes and the Human Condition (From Behavior to Biotechnology) from the University of Maryland, College Park
Unlike some other courses, I didn't jump with excitement when I saw this course, and I skipped it multiple times before I decided to enroll in it. However, this course completely surpassed my expectations, and it turned out to be one of my favorite courses ever.
This course does an amazing job answering the questions I had about genetics, evolution, and biotechnology, and it provides a lot of interesting insights about those topics. Along with video lectures, this course contained readings and quizzes, which were quite easy. In fact, I actually enjoyed the readings, and for one particular reading, it included an interactive game that had you lick rats virtually to see the change in their methylation patterns, but when my computer blocked the interactive game from playing, I shrieked, "I want to lick a rat" out loud, which has to be one of the weirdest sentences I've said in my life.
Anyway, this course was very interesting and understandable, so I would definitely recommend it for everyone, even if you're not particularly interested in biology, since it answered a lot of my questions about biology and had a lot of interesting concepts and explanations!
Tips + Tricks for How to Learn Online
When I began taking these courses, I didn't take notes, but I realized that a lot of the quizzes would've been easier if I had taken notes. At first, I took notes on paper, but those were scattered everywhere, so I decided to type my notes on a Google Document using the outline method and organize them in a Google Folder.
The outline method is a common note-taking method used by college students, and it involves placing the most major on the left side, and indenting towards the right for more specific points. Coursera offers its own note-taking method, which allows you to save the transcript of the paragraph and timestamp of the video by clicking "Save Note" under the video. You can find the notes later on by going to the home page of the course and clicking "Notes."
However, I didn't find that very helpful, so I only used the feature to save the timestamp for the graphics I thought were important.
Coursera also offers a Help Center, and their support team is actually pretty helpful! I tested out the Help Center since their programs, such as the Coursera for Students program, changed quite a bit throughout the past few months, the information and FAQ provided didn't answer all my questions, so I decided to ask questions through the Help Center Chat feature, and they responded within a few minutes.
The support team answered my questions and also helped me solve some issues I had with the certificates and enrollment, which was very helpful. In addition to a Help Center, Cousera offers a Coursera Community where members can discuss subjects, features, job search, certificates, and meet study buddies, so you can ask questions about features in the Community Help & Questions section.
The Final Verdict: Would I recommend Coursera?
Overall, would I recommend Coursera? While it's commonly debated whether or not a Coursera certificate is useful in the real-world, as long as you put in the work for the courses, it's an amazing opportunity to learn more about a topic, and you can apply the skills you learned to real-world issues.
If you're an avid learner, Coursera offers quality education at no cost or a low cost, and this education can be significant if you take a course to learn rather than just for the certificate and recognition, so whether or not the certificate matters in the real-world, I would highly recommend Coursera for students who are passionate about learning and want to learn more about a topic, since it's also a great tool if you want to take a class that's not offered at your school!